I've been in the blogging world for a few years now, but this blog was just for family and friends. I had no idea that there was such a big blogging world out there with conferences until I got serious with my Inspired Blog. Over the past year I've seen many people go to blogging conference's, but none of them really caught my attention until I came upon The Influence Network.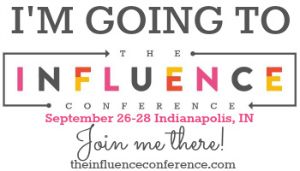 I am excited to connect with some amazing women who believe in what I believe and have the same main goal. This is all new to me and I'm believing that instead of turning into a little hermit crab ,like I usually do in big group settings, I will walk away with many meaningful friendships. I am coming into this conference with big questions and high hopes as I know God is good and gives us just what we need.
I've been to many a conferences in the last 4 years of my life, but this one is going to be completely different, which really excites me. I 'm very big on taking Instagram pictures so for sure I'll be packing little props to give some texture and character to my pictures, it just what I do. I will also be bringing a cute notebook that I've been waiting to use just for the occasion.
I'm really looking forward to meeting all the beautiful new people, connect and get some talking in. It feels like the perfect opportunity to lay all the worries aside and just have good hearted fun. I also am expecting to do a little bit of learning and growing as I've been asking myself and God some questions that I know will get answered.
One reason why I am so happy about this conference because I prayed for my roomies and God picked every single one of them! I will have 3 gorgeous ladies that I will get to know and become dear friends with. My roomies are CarolineGrace with Completely Caroline, Lillie with Redeeming Love Photography and Erica with Strong Brave and Beautiful

.
And here is me... thank you Stephanie for the great pictures!